Back to Product Listing
Moisturizing Facial Oil for Oily/Acne Prone Skin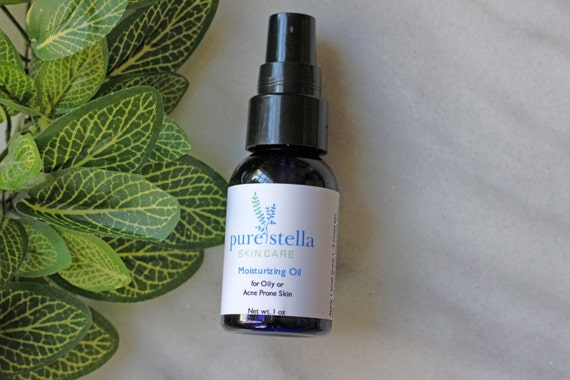 Pure Stella Facial Moisturizing Oils made with plant-based oils and pure essential oil specifically chosen to suit your skin type. Nourishing oils help to replenish essential fatty acids that are crucial to replenishing and maintaining the hydration and nourishment levels of the skin.
-This lightweight, non-clogging formula absorbs quickly leaving skin smoother, softer, and balanced
- Formulated with botanical oils and essential oils formulated for oily/acne prone skin
For best results: Apply 1 pump, immediately after washing your face. A little goes along way with these oils. Each 1 oz bottle contains approximately 150 pumps and should 2 months or longer.
Ingredients: Moisturizing Oil for Oily/Acne Prone Skin Ingredients: Sweet Almond Oil, Jojoba Oil, Grapeseed Oil, Rosehip Oil, Vitamin E, Pure Essential Oil Blend for oily skin
At Pure Stella we use only expeller or cold-pressed oil and pure essential oils to maintain the high quality and benefits of each ingredient.
Works well with: Cleansing Oil for Oily/Acne Prone skin - https://www.etsy.com/listing/196971757/facial-cleansing-oil-for-oilyacne-prone
Also, available in a set - https://www.etsy.com/listing/234146649/facial-cleansing-and-moisturizing-oil
Moisturizing Oils are also available for Dry and Normal/Combination skin types.
For Dry Skin - https://www.etsy.com/listing/210461038/moisturizing-facial-oil-for-dry-skin
For Normal/Combination Skin - https://www.etsy.com/listing/210470327/moisturizing-facial-oil-for-normal-skin