Back to Product Listing
Lavender Sea Salt Body Scrub - Exfoliate and moisturize with this luxurious body scrub.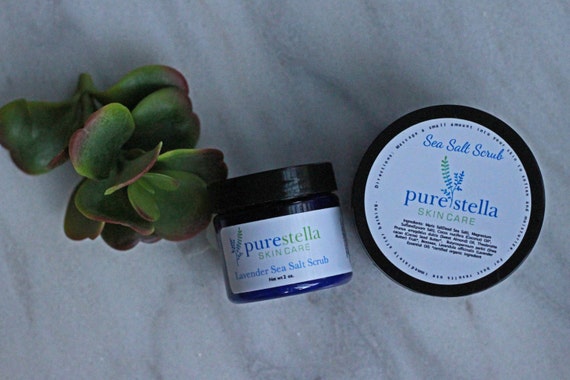 Rich nourishing body scrub containing dead sea salt and epsom salt to exfoliate and detoxify. The botanical oils and butters will leave your skin moisturized all day.
- Beeswax, cocoa and shea butter ensures a rich luxurious scrub and no drippy, oily mess
- Quickly absorbs into your skin providing long lasting moisture
- Calming lavender scent
- Available in 2 or 4 oz recyclable PET containers
Ingredients: Dead Sea Salt, Epsom Salt, Coconut Oil, Sweet Almond Oil, Shea Butter, Cocoa Seed Butter, Beeswax, Lavender Essential Oil
Directions: Massage directly onto skin in a circular motion paying special attention to rough dry areas. Rinse well and Pat dry. No need to moisturize, just let oils absorb into skin.
Precautions: Not recommended for facial or other delicate areas. Do not use internally or on broken or irritated skin. Shower or tub may become slippery, use caution. This product does not contain any preservatives to prolong the life, take care to not let water enter the container.
Benefits:
*Dead Sea Salts are mineral-rich and contain high proportions of Potassium, Magnesium and Bromide. Potassium helps regulate the moisture level of the skin, Magnesium helps promote healing, and Bromide has a smoothing and relaxing effect. Dead Sea Salt exfoliates and revitalizes the skin and helps draw out toxins. 
*Epsom salt is known for its ability to ease pain and muscular tension. Epsom salt helps to reduce swelling, relax the nervous system and eliminate toxins from the body.
*Coconut oil is a powerful moisturizer that is beneficial to restoring dry or flaking skin. It contains antioxidant Vitamin E as well as 3 fatty acids: capric acid, lauric acid and caprylic acid.
*Sweet Almond Oil is rich in essential fatty acids and vitamins A, B1, B2, B6 and E.  Almond oil has emollient properties, which gives it the ability to rejuvenate and soften the skin
*Cocoa Butter is a soothing emollient that has been used for centuries in Africa as a skin care ingredient. It has been used to heal and moisturize skin that has been exposed to the elements. It also helps reduce the formation of stretch marks during pregnancy by keeping the skin supple. 
*Shea Butter has been used by African healers thousands of years as the ideal treatment for dry or aging skin. Its high content of non-saponifiables and unique fatty acid profile gives Shea Butter the ability to moisturize and retain the elasticity of the skin. Shea Butter also helps to protect the skin against the damaging effects of the sun while repairing cellular degeneration.
*Beeswax acts as an emollient and a humectant, drawing moisture to the skin and helping to maintain that moisture. Beeswax also contains vitamin A, which may be beneficial in softening and rehydrating dry skin and in cell reconstruction.
*Lavender oil has a soothing and calming effect on the nerves and on the skin it tones and revitalizes.