Back to Product Listing
Detoxifying Clay Mask - French Green and Bentonite clay will remove toxins and tighten skin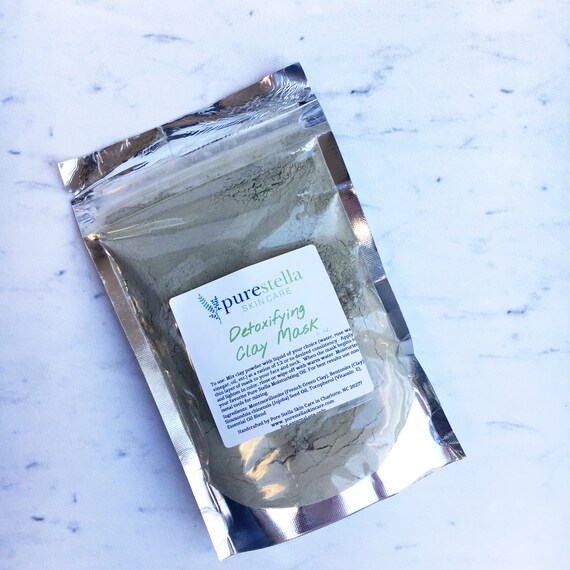 The blend of French Green and Bentonite clays in this mask will remove toxic substances, and impurities from your skin while tightening your pores and stimulating the skin by bringing fresh blood to damaged skin cells.  This once a week treatment is a great addition to any skin routine.  In addition to being a great mask, it is also an effective treatment for insect bites because it will pull out the toxins to sooth any itching and swelling. 
Available in 2 oz recyclable PET containers.
Ingredients: French Green Clay, Bentonite Clay, Jojoba Oil, Vitamin E, Essential Oil Blend (Geranium Rose and Lavender)
Directions for use: Apply of thin layer of mask to your face and neck. When the mask begins to dry and lighten in color, rinse or wipe off with warm water. Moisturize with your favorite Pure Stella Moisturizing Oil. Repeat once per week.
Precautions: This product does not contain preservatives for best results keep refrigerated. Discard if changes in color, texture or scent appear. For external use only. If you are pregnant or nursing, please contact your physician before using any product containing essential oils.
Benefits:
*Bentonite Clay is a combination of montmorillonite and volcanic ash. Bentonite Clay is a highly absorbent clay that pulls oils and toxins from the skin
*French Green Clay consists mostly of montmorillonite and is highly efficient at drawing oils and toxins from the skin. French Green Clay is rich in important minerals and phyto-nutrients
*Jojoba Oil is a natural emollient and has anti-inflammatory and antibacterial properties. Jojoba oil's similarity to sebum allows it to absorb easily and readily into your skin, making it a gentle, skin-softening moisturizer for all skin types. 
*Vitamin E is an excellent moisturizer It contains powerful anti-inflammatory action – and this prevents premature aging, as inflammatory conditions in the skin is a leading cause of skin aging