Back to Product Listing
Facial Cleansing Oil for Dry Skin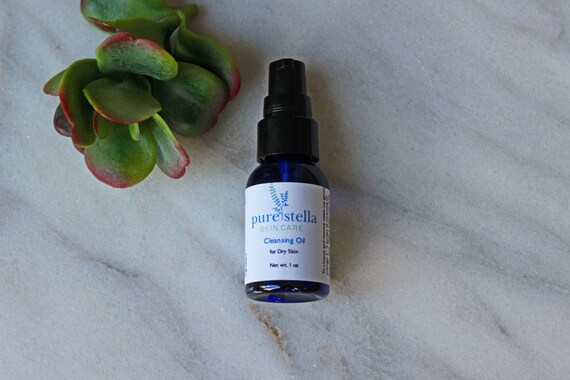 Pure Stella cleansing oils are based on the Oil Cleansing Method (OCM). With the OCM, the basic premise is that "like dissolves like," which means you're effectively cleansing your skin of excess oil, dirt and bacteria naturally and replenishing it with clean, nourishing oil suited for your skin type. Chemical facial cleansers strip the skin of sebum(your skin's natural oil) leaving that dry or squeaky clean feeling, which makes it difficult to keep up the level of moisture needed to have healthy skin. As your skin compensates for the loss of sebum the results can lead to clogged pores, dry/dehydrated skin, or both!
- Nourish and clean skin with our non-greasy, non-clogging daily facial cleansing oil.
- Rinses away makeup completely, leaving skin fresh and clean without the need for a separate makeup remover
- Formulated with botanical oils and essential oils formulated for dry skin
Available in both 1 oz and 4 oz recyclable plastic bottles.. The 1 oz size come with a treatment pump. The 4 oz size has a flip top lid and may be used as is or to refill the treatment pump bottle.
Ingredients: Ingredients: Sweet Almond Oil, Grapeseed Oil, Castor Oil, Pure Essential Oil Blend (Lavender, Geranium Rose, Blue Chamomile, and Clary Sage)
How to use: Gently massage 2 - 3 pumps into dry skin. You may need an extra pump or two for stubborn eye makeup. Wet a clean washcloth with warm water and hold to your face until it cools allowing the steam to help open your pores. Repeat. Gently wipe away makeup, excess oil and impurities. Repeat, if necessary. Pat skin to dry. If skin feels tight, moisturize with your favorite Pure Stella Moisturizing oil or another pump of your Cleansing Oil. This deep cleansing should only be used in the evening. A quick rinse is all you will need in the morning.
If you are new to the OCM method, your skin may need a few days to be clear of blockages and balance out. Stick with it for at least 5 days to allow your skin time to adjust.
At Pure Stella we use only expeller or cold-pressed oil and pure essential oils to maintain high quality and ensure optimal benefit from each ingredient.
Cleansing Oil for Dry Skin Ingredients: Sweet Almond Oil, Grapeseed Oil, Castor Oil, Pure Essential Oil Blend for dry skin
Works well with Moisturizing Oil for Dry Skin - https://www.etsy.com/listing/210461038/moisturizing-facial-oil-for-dry-skin?
Also available as a set - https://www.etsy.com/listing/234146649/facial-cleansing-and-moisturizing-oil
Facial Cleansing Oils are also available for Normal/Combination and Oily/Acne Prone Skin.
For Normal/Combination Skin - https://www.etsy.com/listing/210468343/facial-cleansing-oil-for-normal-or
For Oily/Acne Prone Skin - https://www.etsy.com/listing/196971757/facial-cleansing-oil-for-oilyacne-prone