Back to Product Listing
Mini Lotion Stick and Lip Balm Gift Set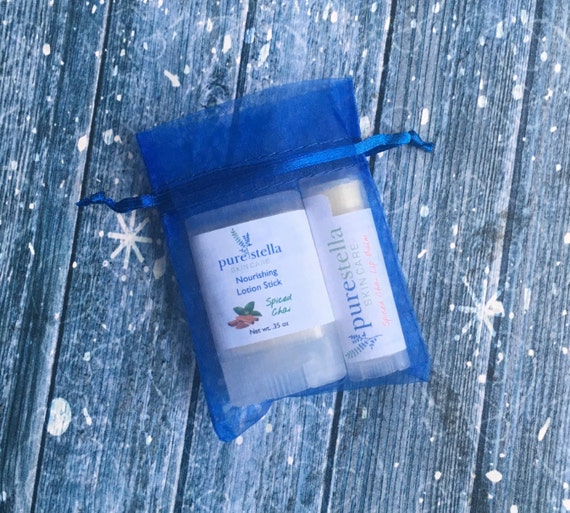 Great stocking stuffer and gift for teachers, hostesses and really anyone. All natural lotion stick and lip balm to help keep hands and lips moisturized and nourished. Each item is "scented" with only essential oils and you can customize your gift set to suit the recipient.
*Lip Balm*
This lip balm is made with the finest botanical ingredients to nourish, moisturize and heal your lips. Goes on easily is strong enough to stay put. It is available in Citrus Mint and Spiced Chai "flavors" that have been created with pure essential oils.
Each oil and butter is chosen or it specific nourishing properties and feel. Beeswax is used because it works to protect the skin and hold in moisture while still allowing it to breath.
Each balm is .15 and comes in an oval twist up tube. The oval tubes are great because they lay flat in your pocket and will not roll off a table or desk.
Ingredients: Beeswax, Shea Butter, Coconut Oil, Sweet Almond Oil, Avocado Oil, Castor Oil, Cocoa Butter, Jojoba Oil, and Blend of Essential Oils
*Mini Lotion Stick*
A mini version of our popular hard lotion sticks for moisture on the go. This hard lotion stick glides on easily and quickly melts into skin to deeply moisturize without a greasy feel. Treat your skin to pure, hydrating expeller pressed oils, plant-based butters and pure essential oils without any artificial colorants, parabens, petroleum, silicone, or phthalates.
- Provides deep hydration without feeling heavy
- Convenient .35 ounce twist up tube fits perfectly in a purse, backpack or carry on
- Perfect for dry hands, feet, elbows & knees
Great for all skin types and gentle enough for children. Available in calming lavender, woodsy sandalwood, warm spiced chai and floral jasmine for everyday use and a "Bug Off" version, to naturally repel insects with all natural essential oils.
Ingredients: Beeswax, Shea Butter, Cocoa Butter, Mango Butter, Sweet Almond Oil, Jojoba Oil, Coconut Oil, Essential Oils.
For external use only. If you are pregnant or nursing, please contact your physician before using any product containing essential oils.