Back to Product Listing
All Natural Body Oil and Sea Salt Scrub Gift Set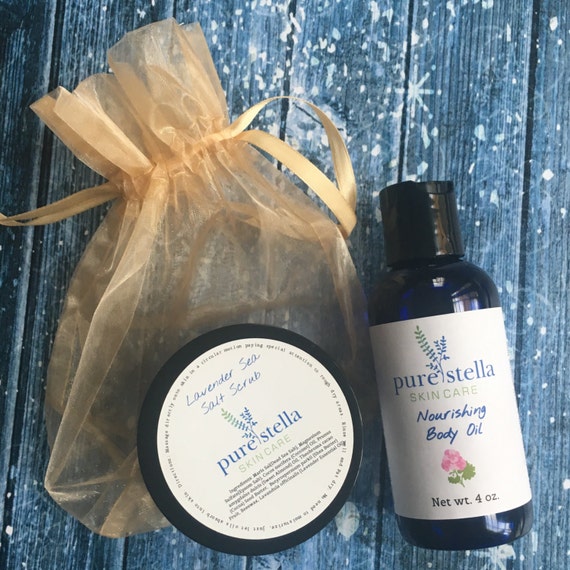 This is a great gift set for teachers, hostess gifts or anyone that needs a little pampering. This full size gift set includes one 4 oz Sea Salt Body Scrub and one 4 oz Body Oil. Comes wrapped in an organza bag all ready for gift giving.
Body Oil
This lightweight body oil is contains a blend of 100% natural botanicals oils to help nourish and soften your skin. For best results apply immediately after bathing for soft, nourish skin. You can also add a few drops to your bath or use as a massage oil. It will absorb quickly but leave your feeling moisturized all day. The blend inviting blend of rose geranium, ylang ylang, bergamot, rosemary and cedar wood essential oils is just an added treat.
This body oil makes a great gift for anyone that could use a little pampering. I can also add this to a custom gift set. Just message me for details.
To Use: To moisturize, pour a small amount into your hands and massage into skin after bathing. A little goes a long way. This body oil also makes a great bath or massage oil.
Ingredients: Almond oil, Grapeseed oil, Coconut Oil, Safflower Oil, Avocado Oil, Rosehip Oil, Blend of Essential Oils
Sea Salt Body Scrub
Pure Stella's refreshing and invigorating sea salt and Epsom salt scrub contains nourishing oils, butters and beeswax to help exfoliate, detoxify and moisturize your skin.
- Beeswax along with the cocoa and shea butter ensures this scrub that will not separate into an oily mess
-Coconut oil quickly absorbs into your skin providing long lasting moisture
-Available in 2 or 4 oz recyclable PET containers in a calming lavender scent
Ingredients: Dead Sea Salt, Epsom Salt, Coconut Oil, Sweet Almond Oil, Shea Butter, Cocoa Butter, Beeswax, Lavender Essential Oil
Directions: Massage directly onto skin in a circular motion paying special attention to rough dry areas. Rinse well and Pat dry. No need to moisturize, just let oils absorb into skin.
Precautions: Not recommended for facial or other delicate areas. Do not use internally or on broken or irritated skin. Shower or tub may become slippery, use caution. This product does not contain any preservatives to prolong the life, take care to not let water enter the container.
Nourishing Lotion Stick
This hard lotion stick glides on easily and quickly melts into skin to deeply moisturize without a greasy feel. Treat your skin to pure, hydrating expeller pressed oils, plant-based butters and pure essential oils without any artificial colorants, parabens, petroleum, silicone, or phthalates.
- Provides deep hydration without feeling heavy
- Long lasting, 2 ounce twist up tubes are spill-proof and mess free
- Perfect for dry hands, feet, elbows & knees
Great for all skin types and gentle enough for children. Available in calming lavender, woodsy sandalwood and floral jasmine for everyday use, and a "Bug Off" version, to naturally repel insects with all natural essential oils.
Ingredients: Beeswax, Shea Butter, Cocoa Butter, Mango Butter, Sweet Almond Oil, Jojoba Oil, Coconut Oil, Essential Oils.
For external use only. If you are pregnant or nursing, please contact your physician before using any product containing essential oils.
Please include your choice of red, green or blue accents for the gift wrap.