Back to Product Listing
All Natural Body Butter and Sea Salt Scrub Gift Set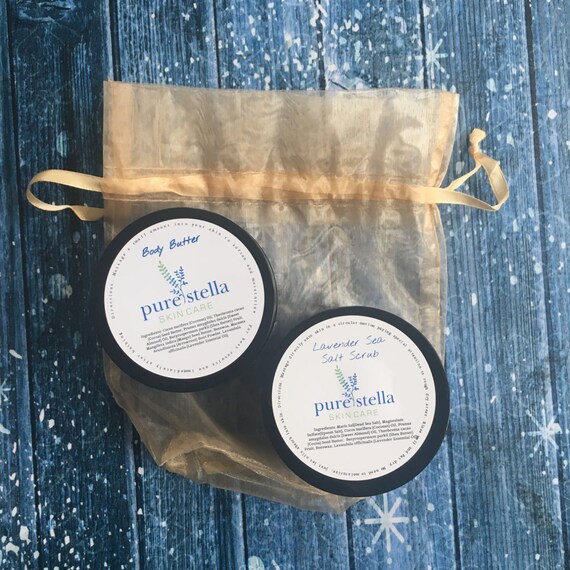 This is a great gift set for teachers, hostess gifts or anyone that needs a little pampering. This full size gift set includes one 4 oz Sea Salt Body Scrub and one 4 oz Body Butter. Comes wrapped in an organza gift bag all ready for gift giving.
Sea Salt Body Scrub
Pure Stella's refreshing and invigorating sea salt and Epsom salt scrub contains nourishing oils, butters and beeswax to help exfoliate, detoxify and moisturize your skin.
- Beeswax along with the cocoa and shea butter ensures this scrub that will not separate into an oily mess
-Coconut oil quickly absorbs into your skin providing long lasting moisture
-Available in 2 or 4 oz recyclable PET containers in a calming lavender scent
Ingredients: Dead Sea Salt, Epsom Salt, Coconut Oil, Sweet Almond Oil, Shea Butter, Cocoa Butter, Beeswax, Lavender Essential Oil
Directions: Massage directly onto skin in a circular motion paying special attention to rough dry areas. Rinse well and Pat dry. No need to moisturize, just let oils absorb into skin.
Precautions: Not recommended for facial or other delicate areas. Do not use internally or on broken or irritated skin. Shower or tub may become slippery, use caution. This product does not contain any preservatives to prolong the life, take care to not let water enter the container.
This rich, creamy, blend of pure botanical oils and butters is handcrafted to provide intense moisture and nutrients for your skin. Just a small amount this moisturizing balm will melt right into your skin and absorb quickly leaving a non-greasy, luminous glow.
Ingredients: Coconut Oil, Cocoa Butter, Sweet Almond Oil, Shea Butter, Seed Butter, Beeswax, Arrowroot Root Powder, Lavender Essential Oil
Directions: Massage a small amount into your skin to soften and moisturize. For best results use immediately after bathing.